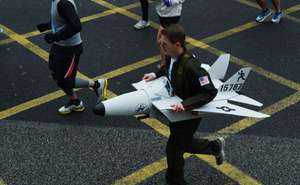 2012 - F-14 Tomcard (Top Gun)
Initially, the plan for the 2012 Dublin Marathon was to re-attempt to break the world record for world's largest Robot costume. After all, the theme was robots running marathons. However, a chance viewing of Top Gun in run up to the race left only one option: the Grumman F-14 Tomcard.
The Tomcard was the first costume to get universally positive reactions, and it made the race much easier to run. There were some highs, such as a spontaneous rendition of You've Lost That Loving Feeling in the Pheonix Park, and some lows, such as structural failure that nearly broke the cardboard Tomcat in half before some emergency repairs.